On its first week of sales in Japan, FFVII Advent Children Complete sold 272,000 units, 40,000 of those being the Cloudy Wolf PS3 bundle. Not only is this impressive for a Blu-Ray re-release/director's cut, but it affected the sales of the PS3 console significantly.
The Advent Children Complete PS3 bundle with the FF XIII demo gave overall PS3 purchases a noticeable boost in sales last week in the process. The week before last, 16,701 PS3 consoles were sold. On the release week of ACC however, the PS3 sold 62,527 units, beating out the PSP, Nintendo DSi, and Wii.
Compared to AC's original sales figures of 420,000 in one week, this is rather good for a Blu-Ray exclusive release.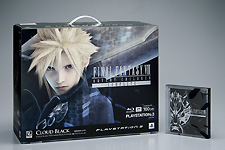 Source: FF7AC Reunion
and
Source: IGN