During the recent livestream to celebrate Final Fantasy XV's two year anniversary, it was announced that Hajime Tabata, director of Final Fantasy XV, had resigned on October 31st. Along with his departure, it was announced that three of the four DLCs for Final Fantasy XV have been cancelled, leaving only Episode Ardyn to be released in 2019. This news comes in the wake of a reported "extraordinary loss" of $33 million from Luminous Productions, the game studio Tabata headed at Square Enix and which was responsible for the development of the cancelled DLCs.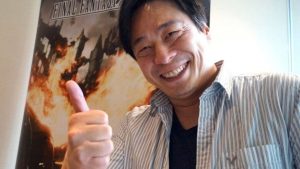 Tabata's letter, addressed to fans of Final Fantasy XV, explained that he is focusing on starting his own business and working on a new project. Eurogamer reports that "Tabata was presented with the option to have Luminous Productions turn into one of Square Enix's regular business divisions, a course it now seems set on, or spin it off as his own company with Square Enix investment, though he chose to leave altogether."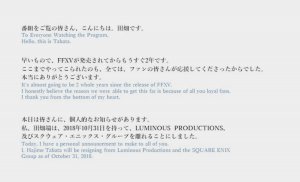 However, alongside hearing that Episodes Aranea, Lunafreya and Noctis have been cancelled, there was still some good news in the announcement as Final Fantasy XV's multiplayer mode, Comrades, is set to be released as a standalone game and there is going to be a collaboration between Final Fantasy XV and the MMORPG Final Fantasy XIV next month. It has also been revealed that Luminous Productions is going to be working on developing a new AAA game, although no further details on this project have been announced yet.
For more discussion and information on this story, check out our forum.
Everyone here at The Lifestream wishes Hajime Tabata the best of luck in his future endeavours.