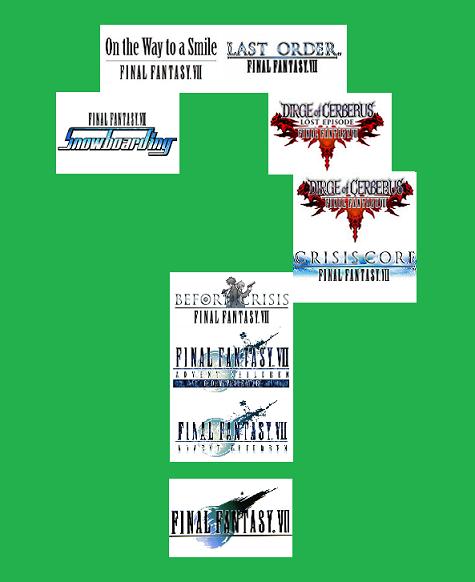 Over the years, it's become hard work for FFVII fans to keep up with what's supposed to be canon and what isn't. Amidst all the games, movies, novellas, guidebooks, and alternate universe titles, what's a FFVII fan to do?
Read this article, that's what!
I'm going to take all the work out of it on your end and lay everything out for you, the fans, to digest in a simple, easy-to-follow manner. So, the next time you're in a debate about FFVII with HeartlessAngel527 or FlowerGoddess777 and they begin to reference Cloud's wing, Aerith waiting around for a certain spikey-haired emo kid or other stuff you know doesn't belong, you can go all Phoenix Wright on them.
So, let's get started.

The Canon
First, let's list in order of publication all the FFVII games that have come out since 1997 and the release of the original FFVII:
Before Crisis (2004)
Final Fantasy VII Snowboarding (2005)
Dirge of Cerberus (2006)
Dirge of Cerberus Lost Episode (2006)
Crisis Core (2007)
Final Fantasy VII G-Bike (2014)

Next, we'll list all FFVII movies, also in their order of publication:
Advent Children (2005)
Last Order (2005)
Advent Children Complete (2009)
On the Way to a Smile: Episode:Denzel (2009)

Next up, a list of FFVII novels and novellas:
The diary-like entries by several characters in the FFVII Kaitai Shinsho The Complete guidebook (1997)
Maiden Who Travels the Planet (2005)
On the Way to a Smile:
—Episode:Denzel (2005)
—Episode:Tifa (2005)
—Episode:Barret (2007)
—Episode:Denzel (revised edition; 2009)
—Episode:Tifa (revised edition; 2009)
—Episode:Barret (revised edition; 2009)
—Episode:Yuffie (2009)
—Episode:Nanaki (2009)
—Episode:Shin-Ra (2009)
—Lifestream Black (2009)
—Lifestream White (2009)
Lateral Biography TURKS -The Kids Are Alright- (2011)

Finally, a list of other games that include FFVII characters or plot elements also found in FFVII:
Final Fantasy Tactics (1997)
Ehrgeiz: God Bless the Ring (1998)
Final Fantasy V (Final Fantasy Anthology edition)
Chocobo Racing (1999)
Final Fantasy X (2001)
Kingdom Hearts series (began in 2002)
Final Fantasy X-2 (2003)
Dragon Quest & Final Fantasy in Itadaki Street Special (2004)
Dragon Quest & Final Fantasy in Itadaki Street Portable (2006)
Dissidia Final Fantasy series (began in 2008)
Bravely Default: Praying Brage (2012)
Theatrhythm Final Fantasy series (began in 2012)
Final Fantasy Airborne Brigade (2012)
Final Fantasy Artniks (2012)
Pictlogica Final Fantasy (2013)
Final Fantasy: All the Bravest (2013)
Final Fantasy: World Wide Worlds (2014)
Final Fantasy Explorers (2014)
Final Fantasy Record Keeper (2015)
Super Smash Bros. for 3DS/Super Smash Bros. for WiiU (2014, with Cloud released as DLC in 2015)
Mobius Final Fantasy (2015, with Final Fantasy VII Remake crossover event "Eclipse Contact" occurring the same year)
World of Final Fantasy (2016)

Before going into the whys and wherefores concerning some titles being canon and others not, I will now give you the list of titles that are definitely canon for the FFVII story or its characters:
Before Crisis
Dirge of Cerberus
Crisis Core
Advent Children Complete
On the Way to a Smile (all 2009 publications)
Lateral Biography TURKS -The Kids Are Alright-
Final Fantasy Tactics
Final Fantasy X
Final Fantasy X-2
Dissidia Final Fantasy series

Next, the list of titles with ambiguous canonicity [editorial note added 1/1/2016: In light of later study of the production credits for the two books these writings can be found in, the conclusion of this author is that as much of the material contained in them as has not been otherwise rendered invalid by later official materials should be considered canon. See Page 2 of this article for more information]:
The diary-like entries in FFVII Kaitai Shinsho The Complete
Maiden Who Travels the Planet

Now, let's move on to those whys and wherefores. First, let's refresh on what the term "canon" means.


[Editorial note added 1/11/2016: In light of George Lucas selling ownership of the "Star Wars" franchise to Disney, the examples and reasoning used below have been updated to reflect this.]
What does "canon" mean?
The word is derived from the Greek word "kanon," meaning "rule," "standard" or "measure." Itself derived from the Hebrew word "kaneh," it first came into use in its modern meaning from the councils who decided the ecclesiastical laws and official texts of the Catholic Church, those becoming the canon laws and texts.
Eventually adapted from that concept, canon for a fictional universe — or the franchise that depicts it — is what is considered to be the official continuity. For an illustration of this concept, let's turn to the franchise that pioneered criteria for determining such matters where fictional universes are concerned.
"Star Wars" is George Lucas's creation. Before he sold the rights of the franchise to Disney in 2012, the supplementary stories and merchandise that are now collected under the "Legends" banner fell under the "Expanded Universe" branding instead.
Being officially licensed creations as they were, while Lucas might take elements added to the so-called Expanded Universe of "Star Wars" by other authors and incorporate them into his projects, only those titles with direct involvement or approval from Lucas himself were considered the "absolute canon, the real story of 'Star Wars"" as Stephen J. Sansweet, one-time Director of Content Management and Head of Fan Relations for Lucasfilm, referred to it.
Though distinctions could become difficult at times due to Lucas occasionally incorporating characters or terms from the Expanded Universe, as well as due to the EU featuring a great many products that were all officially licensed by Lucasfilm even while Lucas himself typically had no direct involvement in their creation (consequently, the overall franchise had a tiered hierarchy with levels of canonicity rather than a strictly in-or-out policy; fully describing that goes beyond the aims of this article, however), comments from Lucas in the May 2008 issue of Total Film magazine make the matter quite simple: "… the movies and TV shows are all under my control and they are consistent within themselves."
With that comment as the basis for determining absolute "Star Wars" canon, the overall definitive canon of the franchise before the sale to Disney was the nine films Lucas had made ("The Phantom Menace," "Attack of the Clones," "The Clone Wars," "Revenge of the Sith," "A New Hope," "The Empire Strikes Back," "Return of the Jedi," "Caravan of Courage: An Ewok Adventure" and "Ewoks: The Battle for Endor"), as well as the animated series "Star Wars: Droids," "Star Wars: Ewoks" and both "Clone Wars" and "The Clone Wars" (despite persistent confusion over the matter following the second Clone Wars series' release, Lucasfilm specified early in 2008 that "The new version won't supersede the events and continuity of that show, but will instead delve more deeply into the story of the Clone Wars" while later that same year the program's supervising producer, David Filoni, said "I personally as a fan never think of it as discrediting any of the other material").
Information from interviews with Lucas or his production notes also fell under this umbrella of canon, as did any deleted scenes from the films that were not in conflict with the final products. On the occasion of new Lucas-involved media — including rereleases of past films — that introduced new material or contradicted previous facts, the newer material was considered to replace the old, and the most current vision of events became the new canon.
Though there was near constant disagreement among fans about the exact mechanics of it all where Expanded Universe titles were concerned, a simple standard often followed was that EU titles could be considered in-continuity so long as they did not contradict established facts from the Lucas-involved works. However, due to his lack of involvement, in the event that Lucas put out a new work with elements that didn't correlate to those in the EU material, they were at risk for being written out of continuity altogether — that is to say, "decanonized."
Without the overall protection of being a work from Lucas himself, those elements of contradiction could call into question the rest of the work, and — unless otherwise afforded a place in the official continuity by a comment to that effect from Lucas — the entire work itself might be considered struck from canon, or decanonized. If a later EU work continued referencing a title of dubious canonicity, however, the specific point of contradiction would be all that was considered invalid.
Lucas himself kept the concept even more simple than all this, though. As far as he was concerned, there were two "Star Wars" continuities — the universe he worked on, and the parallel Expanded Universe, which included all the details of his own continuity, as well as those added by other authors. As he put it in an August 2005 interview with Starlog magazine, "When I said [other people] could make their own 'Star Wars' stories, we decided that, like 'Star Trek', we would have two universes: My universe and then this other one."
Due to examining the "Star Wars" franchise, we're unavoidably getting a bit far afield of the idea in its most general terms, so the concept of canon as it applies to fiction is best summarized as follows: It is the official continuity of a fictional universe as recognized by the franchise's creators (or current owners), in which the most recent depiction of events is considered to be the true version.
Obviously, it can become a bit tricky for situations where the original creator no longer holds ownership rights to the creation and it's then taken in different directions than that creator intended, but these standards generally hold up pretty well. Even now that ownership of "Star Wars" has changed hands from Lucas to Disney, things are fairly clearcut: From April 25, 2014, onward, only the first six films (i.e. Episodes I-VI), "The Clone Wars" movie and TV series, and anything created after that were to be considered canon.
Material that previously fell under the Expanded Universe umbrella, along with the other animated series and two Ewok movies, entered a state of relative limbo where they weren't immediately canon to the new continuity being constructed under Disney, but were instead viewed as a resource future productions of the new continuity could draw upon, thereby rendering that material canon. This "path to canonicity" was utilized for some EU material right out of the starting gate while others never would be.
Though one might think it becomes more difficult to make determinations about canon when dealing with products such as Final Fantasy VII, where the finished product was the work of several core creators and is also owned by a company that they merely work for, it can actually be much easier, for reasons we're about to see. Certainly if one can wrap their head around what we've gone over thus far, the rest of what we'll be looking at should pose no difficulty.
Now that we have a standard for determining canonicity, we'll begin applying it to the various FFVII-related media in order to establish why the list given earlier is the definitive canon of the franchise.