Why are some FFVII titles canon and others not?
First, and most simply put, the original FFVII, as well as Advent Children/Advent Children Complete, Before Crisis, Crisis Core, Dirge of Cerberus, the On the Way to a Smile novellas, and The Kids Are Alright novel all fall under the collective title "Compilation of Final Fantasy VII." This series encompasses the majority of the canon of the FFVII series.
Though once counted as part of the Compilation on pg. 25 of the FFVII 10th Anniversary Ultimania (pp. 23 and 25 of the Revised Edition) in its "Final Fantasy VII series" section, Last Order and Dirge of Cerberus Lost Episode were later identified as "works outside the Compilation" (コンピレーション外の作品) on pg. 226 of the FF 20th Anniversary Ultimania File 1: Character guide.
As such, these two titles are no longer considered canon to the FFVII series.
In the case of the 2005 version of Advent Children, per the standards of canon we discussed above, it was replaced in continuity in 2009 by Advent Children Complete, an extended version of the original that added new scenes and altered existing ones. Similarly, the revised editions of Denzel, Tifa and Barret's episodes in the On the Way to a Smile stories take the originals' place in canon.
For its part, Final Fantasy VII Snowboarding is just the mini-game from the original FFVII, and lacks any story elements. Likewise with Final Fantasy VII G-Bike. They're neither omitted from nor included in canon any further than the story-based segments of the original game that included these mini-games.
In the case of Ehrgeiz, Chocobo Racing, Final Fantasy V, the Itadaki Street games, and the Super Smash Bros. games, these also lack any story-based elements where the FFVII characters are concerned, and none fit into the established FFVII setting anyway.
Ehrgeiz takes place on our own Earth, likely including FFVII characters just for promotional purposes and the novelty of the idea, while Itadaki Street is essentially a board game that's played as a video game. As for Chocobo Racing, Cloud is just a secret character there not even involved in the game's storyline. His presence in the Anthology release of Final Fantasy V is even less notable, as a 16-bit sprite of him occasionally appears at the game's "load data" screen. Meanwhile, with regard to the two Super Smash Bros. games, he was included as a downloadable playable character primarily as a promotional tool for the Final Fantasy VII remake.
Similar explanations to those in the previous paragraph apply to Bravely Default: Praying Brage, the Theatrhythm Final Fantasy series, Final Fantasy Airborne Brigade, Final Fantasy Artniks, Pictlogica Final Fantasy, Final Fantasy: All the Bravest, Final Fantasy: World Wide Worlds, Final Fantasy Explorers, Final Fantasy Record Keeper, and World of Final Fantasy. In other words, none have any bearing on the storyline of FFVII or its characters, and most of them are simple browser or mobile games built around a particular gameplay mechanic while featuring classic Final Fantasy characters and elements.
The Kingdom Hearts series, meanwhile, takes place in an alternate universe from the established Final Fantasy universes, and the FF characters featured therein are not the characters from the FF games that included them. In an interview from issue #61 of the Official U.S. PlayStation Magazine (October 2002 issue, pg. 139), Tetsuya Nomura made this clear when he said, "There's no relationship from FFVII to the Kingdom Hearts stories. I consider them separate stories."
Dissidia, on the other hand, features actual characters from various games in the Final Fantasy series, as established by such observations from the first Dissidia's Ultimania as this one on pg. 530 concerning Cloud's line from the game, "If I win, are my sins forgiven?": "Cloud continued to regret the deaths of his best friend and comrade, who were dear to him, in FFVII" (translation by hitoshura of TheLifestream.net).
Furthermore, on pg. 658 of the same Ultimania, it says the following regarding the secret ending of the first Dissidia: "This event depicts Cosmos's status after the warriors have returned to each world." In other words, it's identifying the characters featured in the game as the authentic characters from their respective Final Fantasy titles, as it speaks of them returning to their respective worlds.
It also bears observation that Tetsuya Nomura, character designer of FFVII and director of Advent Children/Advent Children Complete, served as both character designer and creative producer for Dissidia. Furthermore, Yoshinori Kitase, director of the original FFVII and the primary producer of the Compilation of FFVII, served as producer for Dissidia as well. This is where we begin to see the ease in establishing canon when multiple core developers are involved. One need not always depend on the input or involvement of a single individual for establishing canonicity, as in this case, where two of FFVII's four core developers — the other two being scenario writer Kazushige Nojima and art director Yusuke Naora — providing their involvement was sufficient.
Both also provided input to the effect that Dissidia should be seen as a true installment of the Final Fantasy series. Nomura referred to it as such in an interview from the Dissidia Ultimania (pg. 697; "Although this game is a Final Fantasy installment it's not an RPG …"), as did Kitase in an update to his 1UP.com blog on August 27, 2009:
"Dissidia means 'conflict' or 'disagreement' in Latin.
'Gaiden' (side story or spin-off) made the game feel too distant, and we wanted to set the right tone for DISSIDIA FINAL FANTASY; it isn't a numbered title, but has just as much spirit as a main story."
The game's director, Takeshi Arakawa, also expressed this sentiment in an August 13, 2009 update to Kitase's blog: "As a rule we were extremely careful to treat DISSIDIA FINAL FANTASY as a genuine entry in the FINAL FANTASY series."
Next, Final Fantasy X and its sequel are part of the FFVII canon (and vice versa) primarily by virtue of ties drawn between them by Nojima, who wrote all three. During an interview with he and Kitase from the FFX Ultimania Omega (pg. 191), the two revealed that future Final Fantasy titles would establish a plot-related connection between FFVII and FFX.
This first came in the form of Shinra from Final Fantasy X-2, who had a small subplot in the game about pioneering the concept of drawing energy from within the planet to harness for various purposes, such as electricity. Nojima then expounded on some of the specifics of how all of this developed from there in an interview in the FFX-2 Ultimania. Other Compilation of FFVII staff would make a contribution in the form of the airship, the Shera.
For more on this subject, please refer to this page: "Is FFVII connected to FFX and X-2?"
Final Fantasy Tactics is perhaps the least obvious title to be among those actually canon to the FFVII series. While this game features Cloud and a character who shares Aerith's name, occupation and appearance, the game wasn't developed by any of the core developers who have had a hand in the FFVII titles featuring them. Furthermore, the Unexplored Land and Treasure (Wonders of the Ancient World and Artefacts in the English translation of the War of the Lions version of Tactics) narratives filled out by the game's Proposition (Errands in War of the Lions) sidequest is rife with references to past FF titles, including the names of such people and places as Matoya (FFI), Pandaemonium (FFII), the Palamecian Empire (FFII), the Forbidden Land Eureka (FFIII), the Kingdom of Baron (FFIV), the Red Wings (FFIV), the Ronkan Ruins (FFV), the Phantom Train (FFVI) and Setzer Gabbiani (FFVI) — often in descriptions accurate to their original portrayals.
Given all that, it would be easy to take Cloud's cameo in the game as another simple reference with no actual basis in canon, despite Cloud's inclusion in the game being written in such a way that his presence fits neatly into FFVII's continuity.
However, the section on pg. 560 of FFVII's Ultimania Omega detailing Cloud's appearance in Tactics treats his presence there as legitimate, pointing out the accurate recreation of his uniform for Tactics, lines from the script alluding to FFVII, and even going as far as to speak of Cloud being pulled from FFVII's world into Tactics's:
Cloud is a playable unit?!
If certain requirements have been fulfilled, Cloud can be summoned from the world of FFVII via the power of a 'transporter device.' He will say mysterious things upon his arrival and then leave, but later needs backup in rescuing a flower vendor (consult the right-hand chronicle) ; he can then be acquired as a comrade.
Cloud has the job class SOLDIER, which is exclusive to him and uses the unique ability set Limit. Limit can be used at no cost, and so having Cloud use it can probably be done easily and enjoyably in many battles.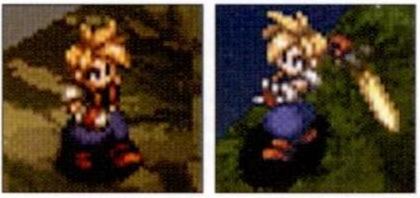 Cloud is a gallant figure in FFT. His uniform from FFVII is faithfully reproduced.


[In the screenshot, Cloud is saying "There's no getting off this train until we reach the station"[*1]]
Notice this well-known line from FFVII. In addition, "I couldn't care less what your names are," [*2] "What is this…this feeling in my fingertips?," [*3] "No, stop…Sephiroth–no!," [*4] "I feel the flow of the Lifestream," [*5] etc., are various other lines that can be seen at times.
[*1: From the English translation of FFT: War of the Lions. This line was rendered as "There ain't no gettin' offa this train we're on" in the English translation of the original version of Tactics on the PlayStation and "There ain't no gettin' offa this train we're on, till we get to the end of the line" in the English translation of the original FFVII.
*2: From the English translation of FFT: War of the Lions. This line was rendered as "I don't care about names" in the English translation of the original version of Tactics on the PlayStation and "I don't care what your names are" in the English translation of the original FFVII.
*3: From the English translation of FFT: War of the Lions. This line was rendered as "My fingers are tingling" in the English translations of both the original version of Tactics and the original FFVII on the PlayStation.
*4: From the English translation of FFT: War of the Lions. This line was rendered as "Stop…stop it… phiros…" in the English translation of the original version of Tactics on the PlayStation.
*5: From the English translations of both FFT: War of the Lions and the original version of Tactics on the PlayStation.]
SOLDIER can utilize many abilities with Limit. The name of the weapon needed in order to use these techniques is the Materia Blade, like it were something from FFVII."
Put simply, the book treats Cloud's presence in Tactics as canon.
As mentioned above, Cloud's inclusion in the game was also written in a way that it would fit cleanly into FFVII's continuity. Let's look at how this is the case.
While at first glance, his birthday being January 31 rather than August 11 seems to automatically disqualify this appearance as genuine, upon remembering the date of FFVII's original release (January 31, 1997), it becomes clear that this is simply a tongue-in-cheek reference to that date. Given that, unlike most other characters, Cloud's age isn't actually displayed in his in-game profile and consequently does not change, using his real date of birth wasn't necessary to begin with.
Immediately after arriving in the world of Ivalice via a machine described as capable of facilitating "transportation across dimensions – across the very fabric of time and space," Cloud comments that his last memory is of being "swallowed by a current – a great stream." This is most likely the time Cloud was enveloped by the Lifestream when Sephiroth cast Meteor in FFVII, after which his location went unknown for quite some time.
The mental instability Cloud suffers during his appearances in Tactics would also seem to suggest this. He suffers headaches and uncertainties about his identity just as he did during that period in FFVII ("I'm a member of SOLDIER! I was not…made!"), and on one occasion begs Sephiroth — who isn't even around in Tactics — to stop doing something causing him pain.
Due to this and the page from the FFVII Ultimania Omega quoted above, Cloud's appearance in Final Fantasy Tactics is undoubtedly canon. Though true that FFVII's core developers had no hand in the making of Tactics, the game was developed and published by Square, which holds ownership of Cloud and the FFVII series as a whole.
The same criteria was enough for Dissidia Final Fantasy, after all, which featured several characters who had not appeared in games worked on by Dissidia's core development team, and yet the game is nonetheless considered canon for all characters involved. In fact, Dissidia's story is of great significance to the backstory of characters from the first Final Fantasy, and to that game's world setting.
And though it is also true that Tactics is never mentioned among the titles in the Compilation of FFVII, given Cloud's small role in Tactics, and given the game's status as part of a different Compilation-like series — the Ivalice Alliance, as SE has dubbed it — it can't really be expected that it would be. What we've looked at here is fully sufficient enough to qualify Cloud's appearance in the game as canon.
This is less likely to apply to his appearance in Mobius Final Fantasy, however, despite a similar conceit being employed to justify his presence. The "Eclipse Contact" crossover event with Final Fantasy VII Remake actually features more of a narratie than Cloud's story in FFTactics did, but it is one that doesn't currently appear to fit anywhere in either Cloud's personal timeline or the history of FFVII's world.
This event sees Cloud and all of Midgar (as it would be depicted pre-Meteorfall, still patrolled by Shin-Ra troops) transported to the world of Paramitia. Cloud has lost his memories of who he is and the world he came from — and he doesn't ever recover them before being teleported to an unknown destination, having declared "I have no intention of going back into memories" (思い出の中に帰る気はない) and "I want to go to a world that's moving forward" (俺が行きたいのはこれから動き始める世界だ). In addition, Midgar doesn't seem to return to where it belongs either.
It's probably safe to say that these appearances of Cloud and Midgar in Mobius Final Fantasy should not be taken as canon.
To this observer, the goal of the segment featuring Cloud's departure — and the goal of the lines quoted above in particular — is to be a meta commentary on the FFVII remake, as well as what fans should expect from it. As Kitase and Nomura have been saying in interviews, they are looking to make a new experience with FFVIIRemake rather than simply rehash the original FFVII.
Finally, we need to examine the writings of Benny Matsuyama, which include the diary-like entries from several characters in 1997's FFVII Kaitai Shinsho The Complete guidebook, as well as Maiden Who Travels the Planet, a novella starring Aerith included in FFVII's Ultimania Omega and set after the events of Disc 1 of FFVII.
As an employee of Studio BentStuff, which does the compiling and editing of the information for the Ultimania guidebooks that Square Enix publishes, Matsuyama is himself not an employee of SE, nor has he had involvement in the development of any Final Fantasy games. He has written many short stories and diary-like entries for other Final Fantasy games, however, including FFVIII, FFX, FFX-2 and FFXII.
As such, he does have an extensive history working with SE's characters and getting his work involving them published by Square Enix itself. Is this enough to make his work canon, though?
With FFVIII, X, X-2 and XII — arguably, yes. These works are not part of so extensive a series as FFVII, and even while XII is part of its own Compilation-like structure, Matsuyama's work involving that game has not run into the issues that face his contributions to FFVII, likely due to most of the various titles in the Ivalice Alliance taking place in drastically different eras.
Due to the proliferation of FFVII-related stories, numerous reference books have been published addressing the overall continuity, none of which have ever so much as mentioned Maiden Who Travels the Planet or the entries in the Kaitai Shinsho — less even than can be said for Cloud's appearance in Final Fantasy Tactics. The FFVII 10th Anniversary Ultimania's "Final Fantasy VII History" section (pp. 16-20 of the Revised Edition; 16-19 of the original) — a timeline addressing the production of numerous FFVII media from 1995 to the time of the book's publication — does not mention Matsuyama's writings, nor does the same guide's "Final Fantasy VII series" section (pp. 21-27 of the Revised Edition; 20-25 of the original), which, as mentioned above, even included the now-decanonized Last Order and Dirge of Cerberus Lost Episode.
Even the list from the FF 20th Anniversary Ultimania File 1: Character guidebook that decanonized those two titles doesn't speak of Maiden or the Kaitai Shinsho's diary entries as part of the Compilation.
Basically, since their publication, the existence of Maiden Who Travels the Planet and the Kaitai Shinsho diaries have been completely ignored by Square Enix — even on a list that took the time to write other titles out of continuity. Not so much as a single Ultimania profile has referenced them. In fact, a monologue by Aerith found on pg. 159 of the Kaitai Shinsho has her speak of meeting Zack while selling flowers. While that would be able to get a pass in continuity with the original game, it contradicts what's shown in Crisis Core, in which Aerith meets Zack under completely different circumstances. She doesn't even begin selling flowers in Crisis Core until after she meets Zack and he gives her the suggestion to do so!
For its part, Maiden Who Travels the Planet has no actual contradictions with established canon — neither with the original game alone nor the wider official continuity of the Compilation of FFVII. This is, ironically enough, something that cannot even be said of several titles that are definitely counted in canon for the series (for more on that, see this document's "Compilation of Final Fantasy VII inconsistencies" article).
All this being said, Maiden Who Travels the Planet at the very least likely should be counted as much as Matsuyama's writings in other Ultimanias. Not only was the FFVII Ultimania Omega published by Square Enix, as they all are, the book's production credits page attributes both "Production and Editorial" (出版・編集) to the company. Even more significantly, under "Editorial Supervision" (監修) we find the Compilation of FFVII Publicity Staff (COMPILATION of FFVII 宣伝スタッフ), as well as Tetsuya Nomura and (野村哲也) and Kazushige Nojima (野島一成) themselves. It seems reasonable to conclude that one or both of them at least had the opportunity to look over this novella before it saw publication.
Establishing certainty about the Kaitai Shinsho diaries is less cut and dry, as the extent of involvement by Square is less clear. We do see one producer from Square and two of FFVII's publicity producers credited with "Information Provided by: Square Co. (Tadashi Nomura/Kiyotaka Sousui/Kousei Itou)" (資料提供 株式会社スクウェア(野村 匡/惣水清貴/伊朦幸正)), as well as "Editorial Supervision" attributed to Square Co — but that is as much as we get. Whether Nojima, Nomura or anyone else of their caliber had oversight is left unknown.
In the absence of that certainty, it is probably best to err on the side of assuming that at least someone with veto or approval authority from Square had the opportunity to look over that material before it saw publication. As such, counting as much of it as has not been otherwise rendered invalid by later official materials is the most reasonable approach to take.