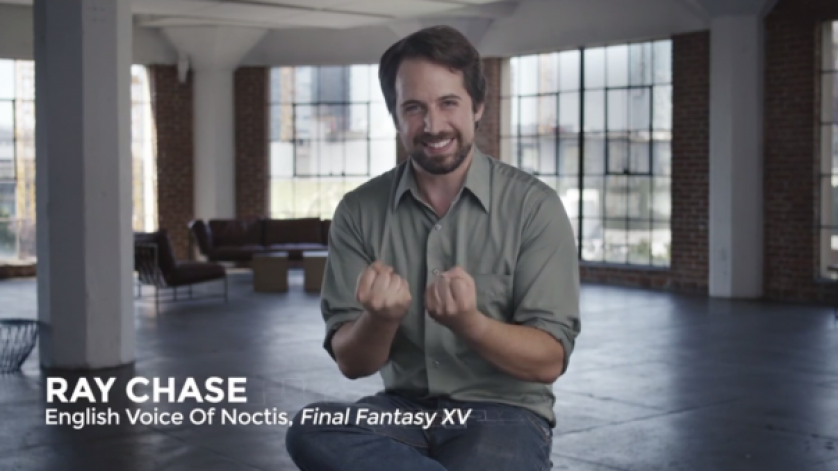 The Lifestream interviews Ray Chase
by Glenn, The Twilight Mexican
November 15, 2017
0 comments
Before linking you, dear readers, to a transcription of The Lifestream's interview with Ray Chase, the English voice of Noctis Lucis Caelum in Final Fantasy XV, I want to apologize to both Ray and my fellow interviewers for taking so long to get this article up. It has been nearly three weeks since The Lifestream staff members Tennyo, lithiumkatana17, and myself sat down with Ray on the first night of EXP Con 2017 in St. Augustine, where he and the other three main voice actors from FFXV made their first collective appearance together. (They were also joined by FFXV voice director, Keythe Farley.)
It was extremely generous of Ray to do this at all given his busy convention schedule, but it was especially kind of him to do so that particular evening, as he had been awake since the previous day and only arrived at the hotel in Florida a few short hours prior due to a delayed flight. We, too, were exhausted, having experienced busy personal demands, lost sleep, and travel woes of our own.
A lot of the delay in posting this article comes down to more of those personal demands between having a family and an exciting new job I've been in for less than three months. However, I think as much of it comes down to something that may sound odd, and which I can only think to explain by describing a moment right after our interview with Ray was over.
During the interview, we had some difficulties with our recording equipment. Given that and the acoustics of the very busy VIP soirée room we were sharing with Ray, the other Chocobros, and many of their other fans, we weren't sure we would have a hale and hearty recording afterward. Tennyo took some handwritten notes throughout, and I committed as much as possible to memory, but we simply couldn't be certain we would even have enough salvageable material to put together into an article.
Bizarrely enough, I was rather okay with that.
As we began discussing the matter while in the catered buffet line, the first feeling that popped from my heart into my head in response to the notion that we might have walked away without anything we could use was this: If the recording didn't pan out, then I had still gotten to share an unforgettable experience with two of my very best friends.
I still feel that way. Glad as I was to learn that we had a recording to work with and that we would be able to share Ray's responses with you, our readers, revisiting and dissecting the moment has been an underwhelming process. The text of the words exchanged during that interview and even the audio recording itself leave out so much of what feels to me like the true content of that experience — all the exhaustion mixed with all the excitement and relief into a surreal cocktail — that attempting to share it with the rest of you just seems to miss the best of what made it special. Even more than that, though, it was such a personal and — for lack of a better way to put this — personally triumphant moment to be part of with my friends that I almost want to keep as much of it as I can just for us, in memory alone.
That's how I feel about so much of that weekend, to be completely honest.
That being said, I do love this fandom; I do want to share special things with it that I know other fans will appreciate; and there is more memorable stuff from the convention that we will be sharing with you — so look to The Lifestream again soon for more of Ray and the rest of the Chocobros from EXP Con 2017. For now, though, enjoy our interview with Noct Gar himself, and thank you for reading: